Robot Whispering
The Unofficial Guide to Programming FANUC Robots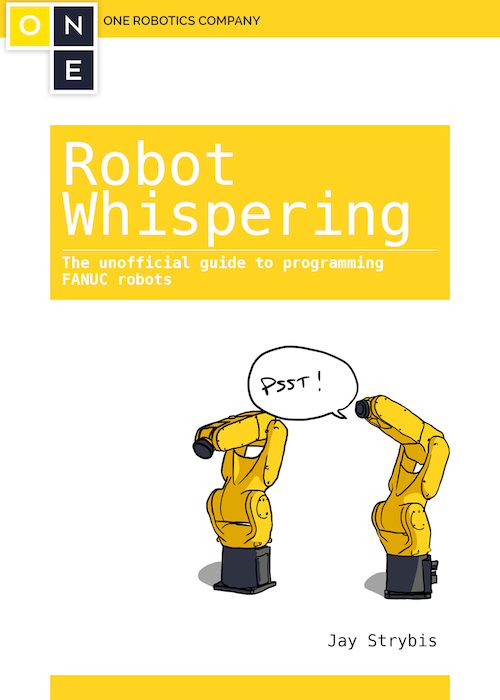 Learning how to program FANUC Robots is hard. Traditionally you've had a few choices:
Attend training at FANUC (expensive, slow, travel required)
Read the manuals (boring, TL;DR)
Trial and error (good luck)
If you're lucky you might have another programmer on staff who can quickly show you the ropes (if they have time). Chances are, however, that you've been tasked with getting a robot up and running, and you don't have time to mess around.
That's why I wrote this book. I've been programming FANUC robots for over ten years, and I've learned a lot-- usually the hard way.
I was lucky enough to work at FANUC for the first three years where I had nearly unlimited access to FANUC's unlimited resources of robots and experience. I tried things, failed, and tried again. It was a great place to learn, and I'm thankful for the help and I advice I received along the way.
Since 2011, however, I haven't had the luxury of failing. As a contractor, my job is to fix things quickly or do things the right way from the start (also quickly). The robots must do their job correctly when I'm finished or I don't get paid.
With this book I've attempted to distill these years of trial and error into the core tools, techniques and best practices I use on every job. When you're done reading, you'll know how to compose programs from scratch that work every time, avoiding the common pitfalls that programmers often make.
With a firm understanding of how FANUC robots work and how an experienced developer works with them, you'll find yourself productive in no time.
What are you waiting for? Grab a copy and start programming robots today!
Or maybe you want more details. Of course you do. Well keep reading, and I'll tell you more about the book.
---
Give Me the Details
This book takes you from a simple "Hello, World" program (classic) to a full-featured material handling application that makes its customer happy by homing itself automatically from any errors.
Think of the book as me personally guiding you through programming your first material handling applications. We'll first do things the easiest, most direct and obvious (and sometimes wrong!) way, but I'll eventually explain a better way of doing things that will make your life easier.
You'll learn how to get around and be more productive with the FANUC teach pendant. We'll go over frames of reference and why you might want to use custom UFRAMEs and UTOOLs. I'll describe best-practices like back-checking your part-presence sensors and gripper I/O, using subroutines when it makes sense and making sure your WAIT-statements have good TIMEOUTs.
And that's just the beginning. We end the book by describing one way of getting the robot home safely from just about anywhere it'll be during it's normal cycle of operation, something I've found a lot of integrators either leave out completely or get wrong. Make life easy for your customers and think about what can go wrong from the beginning and handle those errors gracefully.
In the extremely unlikely event that you don't learn lots of stuff, I offer a 30-day refund policy. No worries.
---
About the Author
Jay Strybis
Jay has been programming for most of his life and has spent his entire career since graduating from college in 2008 working with and programming FANUC robots. Jay started blogging about programming back in 2013 and has released several free tools and open-source projects for making your life easier.
He's currently working on a number of side projects and consulting for some fantastic integrators and end-users for all their trickiest automation needs.